HOME PAGE
NEWS:
November 2016: We are finalaising the colour schemes for a new custom SPORTS 625 for a customer in Scotland. This will be fitted with a new Gen 2 Evinrude 200hp.
October 2016 The big SPORTS 650 has been sold to a customer for use in south west Ireland. Now we are deciding what specification our new 2017 demonstrator RIB should have.
September 2016: Design and development work is nearing completion on the new Sea Shepherd range of boats. Prototype build will commence in the New Year.
August 2016: Explorer Marine is keen to sell all of our demonstrators ready to build new boats for next season. Hence we can offer good prices on the used boats, with new or used engines. See the SALE ITEMS page under the SERVICES button.
April 2016: To start the new season we are updating our demonstrator RIBs with new models. Thus we have used SPORTS RIBs in 480, 550 and 650 lengths for sale.
March 2016: The new season is underway and we are all hoping for a long hot dry calm season to give us plenty of time on the water.Explorer Marine have several used RIBs for sale from £6995 - so look under SERVICES for our SALE ITEMS page to see what we have available.
Explorer Marine was established in 1989 to manufacture high quality power boats for the commercial, rescue, dive and leisure markets. We manufacture and retail five distinct ranges of Rigid Inflatable Boats - RIBs - to suit the needs of a wide range of users. The Explorer ranges are the Explorer SPORTS for general leisure use, Explorer DIVE for divers and charter boat operators, Explorer JETRIB when a petrol or diesel waterjet is required. Then there is the WORKBOAT range for specialised harbour duties and commercial operations, and the Explorer XTREME for those wishing to achieve the maximum speeds in offshore conditions, and / or for extreme wakeboarding where the large wake is required.
Our design principles are not necessarily to follow the industry trends, but to develop innovative features, some individually developed for one customer, which provide valuable customer benefits. Explorer boats thus provide amazing stability, dynamically or at rest, yet complete the task for which they were designed, even at speeds up to 60 mph.
The Explorer Marine offices are at Cullompton in Devon and the main manufacturing workshops are near Rock in Cornwall. The office there overlooks the North Cornwall coast, which allows us to view the sea conditions, giving the opportunity for boat trials in the calmer Camel estuary at Rock and Padstow, or out past the Doom Bar to the more challenging Atlantic waters off the rugged North Cornwall coast.
Explorer Marine RIBs start at 4.0 metres and range in size up to the top DIVE and XTREME and WORKBOAT models at over 10 metres. All share the distinctively flared bow which reduces spray, whilst the broad beam - many models are available in an extra wide version - gives amazing stability and handling.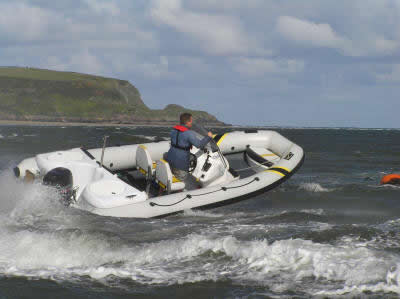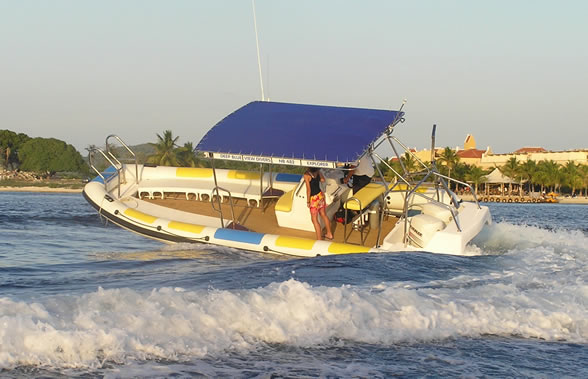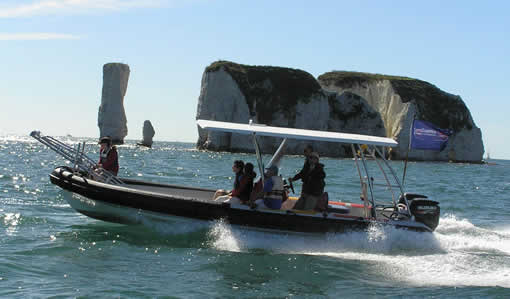 Explorer Marine also supply GRP and polypropylene tenders and rowing boats from 2.25 to 3.0 metres.
Browse through this website using the buttons at the top of all pages, and then use the buttons on the left of each page, to learn a little about our products so that you can specify the boat of your dreams.
If you want to share in our passion for custom boat design, contact us:
By phone on +44 (0) 1392 882344 or 07974 959 777
or email us on info@explorermarine.co.uk.
---