HOME PAGE
NEWS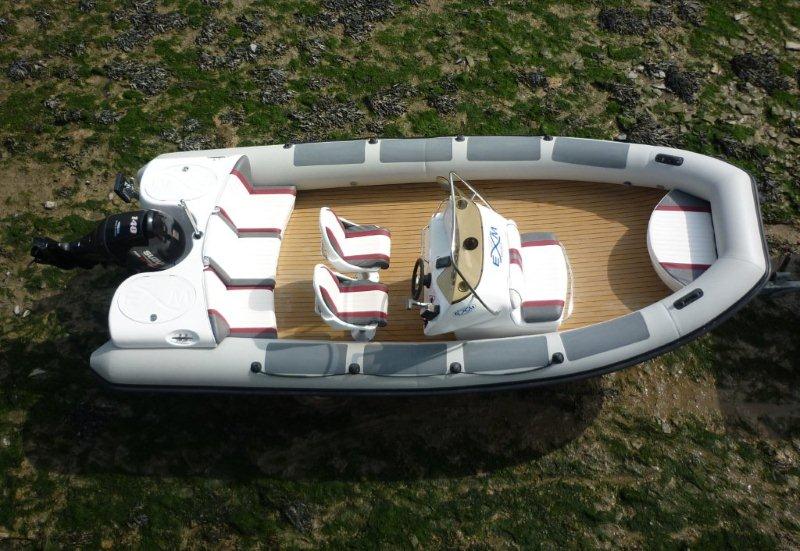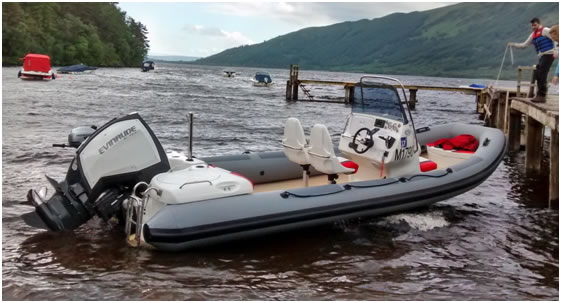 July 2023 - We are busy with customer launch and recovery through the school holidays. Between times, we are working on the new Explorer Hybrid Sportsboat project
We have the SPORTS 625 fitted with the Evinrude G2 200 seen above right, at our Devon site. This is now for sale with a guide price of £43k including the engine and trailer. The engine has run less that 70 hours since new.ne
May 2023 - The special DIVE 700 has been completed and delivered to Chichester.
January 2023: We have removed the hull of the SPORTS 550 from the mould and it is awaiting the fitment of the tubes. This will be our 2023 demonstrator unless it is previously sold.
JANUARY 2023: As the New Year starts we have under construction a SPORTS 550 to be our 2023 demonsrator and a DIVE 700 with special easy rear boarding platform for a customer on the South Coast.
We have a 2021 SPORTS 580 in grey for sale and an older SPORTS 525 in red for sale with the option of various engines and trailers. Email : info@explorermarine.co.uk for more details.
DECEMBER 2022: We wish all of our customers a Very Happy Christmas and a Peaceful and Healthy 2023
OCTOBER 2022: As the season draws to a close we are completing a DIVE 675 and we are about to commence a SPORTS 560 which will be available for sale next spring, fitted with any engine of your choice up to 150 hp.
For details of the boats which we have for sale drop us an email to : Info@explorermarine.co.uk
SEPTEMBER 2022: The School Holiday season has finished, so the waters are quiter and thus now is a good time to arrange a boat demonstartion if you are hoping to have a new boat built for summer 2023. Also we have three boats for sale now, a 2022 model SPORTS 580 with many optional extras and fitted with an Evinrude 150 hp outbord with electronic throttle and shift, and extra light hydraulic steering. We also have a SPORTS 530 fitted with a Yamaha 100 hp and we have a RESPECT 630 cuddy cabin fitted with an Evinrude 115 hp. Very economical, but still cabaple of 35 mph.
See https://www.boatsandoutboards.co.uk/dealer/explorer-marine-414554/ for details of the boats we have for sale and their prices
July 2022: We have now received back from Scotland the customised SPORTS 625 - see photo above right - which is now for sale on behalf of the customer.This boat is fitted wiuth the excellent ETEC G2 / 200 HO outboard, with touch screen electronic display and analogue gauges, electroniuc throttle and shift, and the optional teak effect floor, and also both the heavy duty ski pole, and the side ski bar for use while teaching or for barefoot skiing.
Please contcat us for more details, or to arrange a demonstration in North Cornwall.
Other boats for sale can be found on our sales page here : : https://www.boatsandoutboards.co.uk/dealer/explorer-marine-414554/
May 2022: Fitout is underway for the DIVE 655 which is to fitted with a Suzuki 200 hp for a customer on the South Coast.
February 2022 : We have for sale a SPORTS 530 in red which is avaiable for Easter. It is fitted with a Yamaha F100 fourstroke outboard. A new SPORTS 560 in Grey will be available in June 2022. It can be fitted with a choice of a used Evinrude 115 or a used Evinrude 150, or a new engine of your choice up to 150 hp or 200kg. For more details of our boats for sale :
https://www.boatsandoutboards.co.uk/dealer/explorer-marine-414554/
for details of the boats we have for sale and their prices.
January 2022 : We are commencing the build of another two RIBs. A DIVE 655 is to be fitted with a Yamaha 200 hp, for use in Chichester Harbour.
A SPORTS 560 will be fitted with an Evinrude 115 and will be available for sale for use this season.
December 2021: We have commenced design work on a new RESPECT model. This will be a classic sportboat, but re-engined with a Hybrid petrol / electric battery sterndrive.
November 2021: The season is coming to a close, so we have put the grey 2021 SPORTS 580 demonstrator - with a very long options list - up for sale (£27938). We also have a red SPORTS 525 for sale (£9900) and possibly a dark blue SPORTS 600 fitted with an Evinrude 225 hp FICHT engine for sale. (Price TBA). This is a very fast boat which I was out in last week reaching a top speed of 59 mph. Hence, experienced drivers only.
OCTOBER 2021: As we come to the end of the season, so the demonstrator RIBs for this year will be up for sale at the end of the month, so that we can build new ones for 2022.
See https://www.boatsandoutboards.co.uk/dealer/explorer-marine-414554/ for details of the boats we have for sale and their prices.
August 2021 - The RESPECT 640 and the new SPORTS 580 and the refurbished SPORTS 525 have all be well used this summer on the Explorer Boatshare Scheme.
May 2021 - We have started work on the Explorer SPORTS 530, which is to be fitted with an Evinrude 115hp and used on the Explorer Boatshare Scheme and will thus be available in Rock to experienced boat users.
April 2021 - The RESPECT 640 which is based on a re-modelled SeaRay 21 has been improved further and been out for more sea trials.
March 2021 - We are working on the enhancements to the 2021 Explorer SPORTS 580 demonstrator to provide a hard chine, increased freeboard and a "Decorative Copper Finish" to the undersides.
February 2021 - The first SPORTS 580 hull is nearing completion and awaiting the fitment of the tubes..
January 2021 - The New Year starts and we have CoViD19 to deal with still, but we also have two new Explorer SPORTS 580 RIBs to build. One is for an experienced London customer, the other is a new 2021 model year Explorer 580 model demonstrator in mid grey, which will be tested on the water with a full set of sea trials at Easter, and then will be available for sale.
December 2020 - the SPORTS 490 and the SPORTS 560 have been sold, and so it is time to select some new features to add for the 2021 demonstrator.
November 2020 - The first of a range of "EXPLORER RESPECT" boats has been launched for testing. The RESPECT 640 is still in development, but the prototype will be available for customer testing next season. The aim of the respect range is to provide re-use and re-engineering of classic boats from around the world to reduce the cost and the carbon impact involved in the manufacturing of an entirely new boat.
October 2020: If you want a DIVE RIB for the 2021 season then we have a new and unused military grey DIVE 670 available for fitout to your specifications. Subject to engine availability - contact us for details.
September 2020: It has been a very strange and very busy season in Devon and Cornwall, although things are easing off now that the schools and colleges are back. We are currently working on a prototype 6.4 metre outboard powered weekender in our new SR series. We have sold several RIBs so we will soon commence the build of a DIVE 575 and a SPORTS 575 for use as our demonstartors.
March 2020: The season is approaching soon: Time to order a new build, or to look at the demonstrators which we have for sale - see our SALE ITEMS page.
We have a DIVE 650 and a SPORTS 575 in build at present........
December 2019: Due to a cancelled order we have a military grey Explorer DIVE 670 in build which is available for purchase. It can be specified with single or twin outboards.
We also have a used Explorer SPORTS 560 and a used Explorer 550 available for sale.
September 2019: The season is nearly over, se we have demonstrators for sale - see our SALE ITEMS page.
August 2019: We have one last 225 tender available from this seasons build batch, which has a dark blue deck and a grey blue hull. Available at the discount price of £595 plus options.
May 2019: The latest DIVE 650 is ready for fitment of engines and console etc, as required.
APRIL 2019: ....:....The DIVE 650 hull is having the new tubes fitted. It is to be powered by twin ETEC 115 hp outboards.
March 2019: The season is nearly here so we are preparing boats for the summer ahead.
November 2018: The DIVE mould is being prepared for a series of twin engined DIVE RIBs from 7.00 to 8.00 metres.
October 2018 : The season is nearly over and so the boats are being put away. If you are looking for a used or new RIB, then CONTACT US NOW on 07974 959 777
September 2018: The reduced prices on Explorer 225 tenders have been re-introduced for a limited number of boats ordered over the winter.
May 2018 : The Spring Promotion for reduced price Explorer 225 tenders is now closed.
March 2018: For a limited time we have reduced the basic price of the Explorer 225 tender to £595
February 2018: After all the really cold snowy weather, we are preparing our demostrators for launch. We are also refurbishing a 1995 boat with the fitment of a new Evinrude ETEC 115 High Output engine.
September 2017: The season is coming to a close, so we are making the current demonstrators available for sale. Hence if you are looking for a SPORTS 490 or a SPORTS 560, please conract us.
June 2017: The SPORTS 625 is launched for its owner at Loch Lomond. Initial tests with the Evinrude G2 - 200 HO gave 57 mph. Speeds over 60 mph are expected when the new RX4 prop is fitted
May 2017: The new SPORTS 625 is completed and awaiting delivery to Scotland
January 2017: Hull construction is progressing well for the SPORTS 625 for a customer in Scotland.
November 2016: We are finalaising the colour schemes for a new custom SPORTS 625 for a customer in Scotland. This will be fitted with a new Gen 2 Evinrude 200hp.
October 2016 The big SPORTS 650 has been sold to a customer for use in south west Ireland. A new DIVE specification 650 RIB is under construction .
September 2016: Design and development work is continuing on the new Sea Shepherd range of boats.
August 2016: Explorer Marine has demonstrators for sale ready to build new boats for next season. Hence we can offer good prices on the used boats, with new or used engines. See the SALE ITEMS page under the SERVICES button.
.
Explorer Marine was established in 1989 to manufacture custom power boats for the commercial, rescue, dive and leisure markets. We manufacture and retail five distinct ranges of Rigid Inflatable Boats - RIBs - to suit the needs of a wide range of users. The Explorer ranges are the Explorer SPORTS for general leisure use, Explorer DIVE for divers and charter boat operators, Explorer JETRIB when a petrol or diesel waterjet is required. Then there is the WORKBOAT range for specialised harbour duties and commercial operations, and the Explorer XTREME for those wishing to achieve the maximum speeds in offshore conditions, and / or for extreme wakeboarding where the large wake is required.
Our design principles are not necessarily to follow the industry trends, but to develop innovative features, some individually developed for one customer, which provide valuable customer benefits. Explorer boats thus provide amazing stability, dynamically or at rest, yet complete the task for which they were designed, even at speeds up to 60 mph.
The Explorer Marine offices are at Cullompton in Devon and the main manufacturing workshops are near Rock in Cornwall. The office there overlooks the North Cornwall coast, which allows us to view the sea conditions, giving the opportunity for boat trials in the calmer Camel estuary at Rock and Padstow, or out past the Doom Bar to the more challenging Atlantic waters off the rugged North Cornwall coast.
Explorer Marine RIBs start at 4.0 metres and range in size up to the top DIVE and XTREME and WORKBOAT models at over 10 metres. All share the distinctively flared bow which reduces spray, whilst the broad beam - many models are available in an extra wide version - gives amazing stability and handling.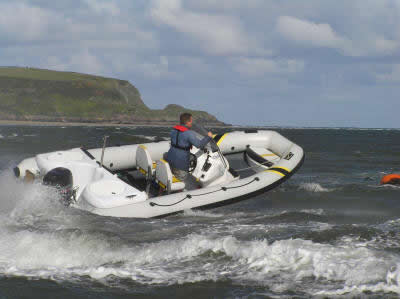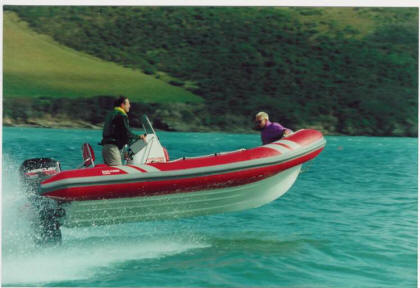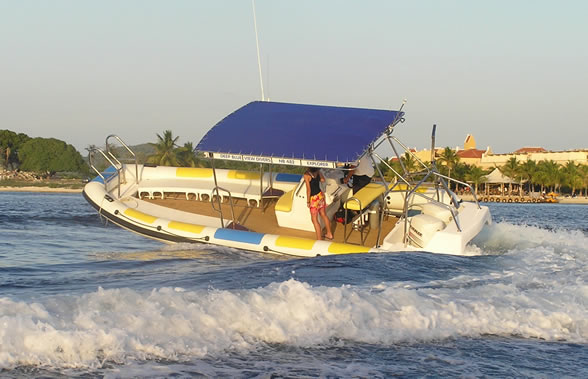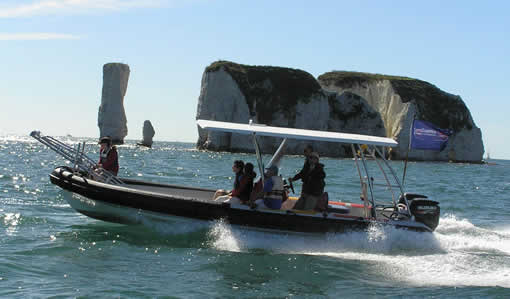 Explorer Marine also supply GRP and polypropylene tenders and rowing boats from 2.25 to 3.0 metres.
Browse through this website using the buttons at the top of all pages, and then use the buttons on the left of each page, to learn a little about our products so that you can specify the boat of your dreams.
If you want to share in our passion for custom boat design, contact us:
By phone on +44 (0) 1392 882344
or email us on info@explorermarine.co.uk.
---