CUSTOMERS
Explorer Marine build special boats for each customer. Thus we are not surprised when our customers appreciate the boats they use. Here is a selection of recent comments from our post and email collection:
I like the design details that make the XTREME range so great to live with. The wide front console seat that opens to provide a mass of useful space. The transom with its built in boarding steps, the easy access to the fuel tanks, the alloy look treadplate floor - so easy to wash down, the many comfortable seats - this is luxury boating ! However it's when you get the Explorer into rough conditions that you truly appreciate the ultra deep vee hull design and its handling at all speeds. Great controllability for mooring at slow speeds, even in windy conditions, and at high speed the most comfortable ride ever.
Mr R. Wilkinson, Banbury, Oxfordshire XTREME 575 Suzuki 140 hp
"I was looking for a sports boat that would offer a rugged, fast, safe family boat, at home water-skiing or cruising in an estuary yet with good sea keeping abilities when venturing out onto the North Cornish coast - the Explorer 550W combined with a Suzuki 140 has met all my expectations and more"
Mr C. Kershaw, Egham, Surrey.
We have named our boat " Rock Steady " , as the name speaks for itself. After a long search looking for a rib which was safe for all our family and suitable for enjoyable water skiing we invested in the 550W rib and have been completely satisfied".
Mr D. McWilliam,
Loch Lomond, Scotland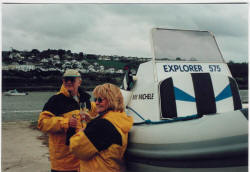 Explorer 550W Evinrude 150hp
"We have had yet another brilliant season with the boat and could not fault it in any way".
Mrs D. Carter, Livingstone, Scotland SPORTS 550
"When I was a boy there was a lovely boating word -'Yare'. a boat was Yare when she looked good, behaved well - and above all felt right. The Explorer 575 is a fine boat and feels right in every way, - she's Yare!"
Edward Woodward, C.B.E.
"The Equaliser"
Our RIB is the largest 5.5m RIB on the market. The Explorer is spacious with its wide beam and the seating arrangement is incredibly versatile. We can happily use it for Tuition and Charter, Wakeboarding, Waterskiing, Powerboat Driving Courses and Private Charters. It is now registed under MCA coding for 7 passengers (+helm)! Under 'Tailor building terms its Spot On', its fantastic. It serves as a coastal boat, it has the luxury of CARPET, it has a low planing speed of 11 or 12 knots and really suits a heavy load - 'she loves it' Under MCA rules we always carry an 8 man liferaft on board, 2 batteries and all the gear. January is a very quiet month and I am only booked for 16 days so far, but in the summer I spend 6 or more hours in it each day and it makes a terrific office - I'm very happy with it.
Mr J. Davis, Exmouth Powerboat School, Exmouth, Devon. Explorer 550 SPORTS Evinrude 115hp
I am delighted with my SPORTS 550 W - its versatility is exactly what I wanted. My use has extended from sedate estuary and coastal cruising with eight adults comfortably seated in the very spacious interior, to 45 knots plus with a couple of people aboard. The boats stability never ceases to amaze in both rough and smooth conditions. Explorer Marine have built the perfect RIB for my use - I highly recommend the boats - and the team that builds them.
Julian Biggs. London.
SPORTS 550 Suzuki 140 hp
"I am so pleased to say that the RIB has proved to be an exceptionally safe, stable and comfortable leisure boat. Exhilarating and fun yet easy to handle. It has provided hours of enjoyment for all. Your customer service and after sales have been superb, including the boat demonstrations, the initial setting up of the boat and the continued support."
Mr & Mrs Hall, Honiton, Devon
SPORTS 650W, Mariner 115hp
This year we had a brilliant holiday using the boat nearly every day. Nearshore or offshore we felt safe and kept dry. The wide flared bow is fantastic, you can crash down onto the next wave at high speed and still stay completely DRY! Our boat has topped 60mph and yet can comfortably carry 10 people or more - just amazing.
Mr K. Jones, Cheshire
SPORTS 600, Evinrude 225hp
We have operated several types of RIB Rescue or Patrol boats over many years. The Explorer 525 SPORTS fitted with the Mariner 90hp is the best combination we have ever had. The boat has the power for serious rescue duties, in the estuary and out at sea. The wide beam and squared bow give tremendous space and unbelievable stability. In its role as the Ski Patrol Boat, it leaps onto the plane and with its specially designed side ski bar serves as an excellent training craft.
Mr D. Parr - Commodore - Rock Sailing & Waterski Club, Rock, Cornwall.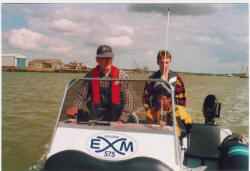 "After years of safety duty in various size RIBs we decided to move our main boating from Motor Boats to a sports / safety configured RIB. Explorer Marine were the only manufacturer prepared to design to our specification and in particular additional width and stability.The result has meant constant demand as both the lead, and controlling safety boat, and for the first time the confidence of the heavy weight dinghy fleet within our main Club."
Mr N. Readings, Colchester, Essex
SPORTS 575W, Suzuki 140hp Four Stroke
The SPORTS 500 model coupled with the excellent Evinrude ETEC 115 hp engine offers brilliant performance and space for the whole family. It does everything well - it gets on the plane fast & provides a dry ride in even the roughest conditions. For two weeks this summer we played and relaxed - I cannot thank you enough for such a boat.
Ms B. Morrell, Leamington Spa, Warwickshire.
Many thanks indeed for the excellent Evinrude 175 and for your superb service. The boat was delivered on time - exactly on budget - and more importantly your care and attention to detail was a refreshing change. I shall have no hesitation in recommending the Explorer Marine boat ranges to my friends and colleagues. It is a shame that this level of customer care cannot be expected elsewhere. Mike A Farr. Ipswich Suffolk
SPORTS 575 Evinrude 175hp
"We have been very pleased with the performance of the boat. It is highly manoeuvrable but extremely stable, making it an ideal family sports boat. On many occasions, we have had a day out with friends and have been able to take 4 adults and 4 children without a problem, due to the width of the bow giving plenty of useable space, We can still pull a waterskier or a doughnut with 8 up and only a 50hp engine and of course, everyone wants to have a go at driving. Launching and recovery is very simple and can be done by one person. A great design: practical, flexible and fun."
Mr N. Stribley, Beaconsfield, Bucks. Explorer 475, Mariner 50hp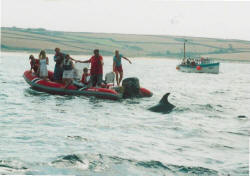 'In Ernest'
"We never dreamt our boat would be soooo much FUN! Our adrenalin loving young have found it more than exciting enough; us oldies relish the safety and exceptional stability; we all love its versatility: estuary or sea ventures - no worries! We towed it to West Wales last year (easily managed from beginning to end by the oldies) to see off friends who are sailing round the world - it was just perfect. And the after care we have had has taken all the worry out of family boating - it's hard to put a value on that. We could not be greater fans of this design of boat."
Mrs. Liz Best, Wycombe Abbey, Bucks. Explorer 525, Evinrude 135 hp
"The new boat is really amazing. It handles so much better, the routing is a lot better, we can have more passengers now and I seem to use less gasoline as well. The passengers have more room to sit and move around and, also, very nice for me is less engine noise. By now the engines have 270 hours on them. A little less than expected, but I think that this has to do with a much faster boat. The teakflooring is great and so is the T-top cover."
Menno De Bree Bonaire Caribbean DIVE 780 Twin 150 hp Evinrudes.
' I'll let you know when we will be down again next year - in the meantime, thank you for the outstanding service you've provided over the year...' Chris Williams Tonbridge, Kent. Sportscruiser Mercury 60hp.
Red Dragon has been doing sterling work all summer and the customers are very impressed with the speed and stability - and this year, with the GRP roof which has kept the rain off us all. The staff are very impressed by the power of the boat, and the ability of the winch to hold the ropes against wind and tide. Sandbanks Marina - WORKBOAT 800 twin Suzuki 90 hp.
The boat has been with us for six months now, and we are still surprised by its performance and effectiveness. It has made our business work so much better by getting us to the fish cages so much quicker. Thank you...... Mark Amechi Tropo Fish Farms Ghana. WORKBOAT 800, twin Suzuki 90hp.